ActionFest 2012 Fan Experience With Gina Carano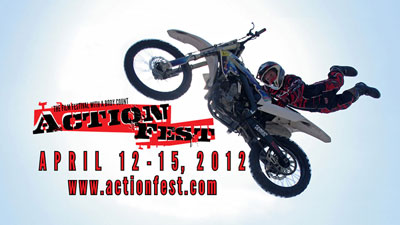 The stunt show started at about 2PM, at about 2:20PM I noticed Gina her mom were there and lots of people noticed and got excited saying that's Gina Carano with the hat and leather jacket…………( for the record I was hoping she would be in her trademark leather jacket :)…………Cung Le joined Gina and her mom in the roped off area with all the stunt men, actors, event people etc.
The stunt show was still going strong at 3PM but Gina walked inside with the director her manager and some event people, I figured the stunt show was just running a little late and they would wait for Gina's introduction and the movie but after 5 minutes i went and and just missed Gina's intro to the movie True Romance and was very disappointed :(….she looked really shy and embarrassed you could tell she hated public speaking (which I can totally relate to :)……she had her usual cute smile and high tailed it out of there with her mom, I was sitting at the end of the second row because I wanted to be up front for the panel on fighting in film that Gina, Cung Le and JJ Perry were doing and Gina walked right next to me and looked very nervous and embarrassed so I gave her a big smile and said I missed your introduction ( I don't think she heard what I said though because she was nervous, but she smiled back as she met her mom and walked out.
Next came the fight panel with Gina, Cung Le and JJ Perry…….Gina was very cute but nervous, she hated talking about her self or criticizing other people or things…..but was very comfortable with Cung Le and JJ and talking about things she was passionate about……she talked about her new movie a little said she is training now and filming starts in June, they really got along well, they were passing questions off to each other and high fiving each other and fist bumping. JJ Perry did a little more talking than Gina or Cung Le but they all were very cool and interesting and had good things to say. they showed scenes of Gina and JJ doing all the fight scenes from Haywire. Cung and JJ went without a microphone, Gina tried to do the same but several people from the crowd yelled they couldn't hear her so they gave her a microphone then one guy in the back yelled he still couldn't hear and Gina looked a little embarrassed so they turned her MIC WAY up (for the record I could hear her fine but it was a big room), later Gina was tapping her Mic and it gave crazy loud feedback but probably only the people in the front few rows knew it was her:)…….she was embarrassed but tried to play it off like it wasn't her 🙂
After the fight panel was over there was big applause for everyone but Gina ALWAYS got the most applause and most excitement whenever she was there, they were doing pics and autographs afterwards and she was taking the typical pics with her arm around the person, when It was my turn I asked her a few questions about her new movie "In The Blood", she said filming will start in June, she said she didn't know when it would come out, she said Haywire was supposed to be released in 2010 and they did several reshoots and then held up the release, she also said she didn't know if it would have a wide theatrical release or be straight to DVD, I think she said the director would know more after it was shot. There were a bunch of people waiting for pictures after me so I asked her to put me in the rear naked choke for the pic and Gina and the fans really liked that, in fact most of the others waiting asked Gina to be put in the rear naked choke or a head lock, one guy that wanted to be put in a headlock was like 7 feet tall and Gina asked him to bend over or get on his knees, a bald headed girl asked Gina to sign her head and Gina really got a kick out of that I have a pic of Gina and the bald headed girl and Gina putting me in the rear naked choke that I will try to get posted when I get home…………After all the photos as G was leaving to go back to the hotel around 6PM with her mom to change her clothes and do her hair I told her I am having a Haywire Party at my house in 3 weeks and asked to get a few pictures with her doing a birthday shot and drinking a beer to use for the FB event invite….she said she would have been totally down if I had the shots and beer with me now but that she had to get back to the hotel ASAP………..her and her manager both said that after the awards or at the after party would be a good time to get those pics.
The awards party was really cool Gina looked amazing in that dress with her long hair, she was sitting at a table with Cung Le and JJ Perry in the front right corner of the room , they gave the awards to the stunt men and directors first and they showed a clip of the award recipients stunts, fights, acting scenes etc… before calling that person up for the awards and to speak. Ginas kissed JJ and and fist bumped and patted Cung Le on the back and they did similar with Gina, Cung Le was snapping photos of Gina and taking video with his phone……..Gina got called for her award last and received a huge pop she always got the most applause……….the funny thing was Gina walked up to the microphone to speak as her video highlights were starting and got embarrassed but then walked behind Cung Le and stood up the whole time the highlights were playing to make it look like she intended to stand up, she also got embarrassed when her Blood & Bone scene came up during the highlights and covered her eyes and started giggling it was really cute :)………Gina then started speaking and thanked her mom for coming with her and ALWAYS supporting her throughout her entire life she teared up and got a little emotional saying how much her family and close friends mean to her, she then wanted people to recognize the stuntmen and women and said hopefully there will be more opportunities for stunt people and people like Cung, JJ and herself but she never really said anything about herself.
After the awards Gina hung out in the tent for like 45 minutes with all the movie directors and event people then went upstairs with some of the event directors and her manager, she wasn't in the VIP Lounge because I checked periodically because I was REALLY hoping to get those pictures I wanted and to get a chance to really talk with her, I heard her manager say earlier they were going to the after party downtown but I wasn't completely sure they were going, plus I never saw her comeback downstairs so I had to decide if I was going to take the party bus downtown with a bunch of directors and event people or stay in the VIP lounge and hope Gina came out of some backstage room, then was pretty sure I heard her manager talking on the phone debating if Gina and him should ride the bus to the after party, he then said they would wait for Cung Le I think and ride the next bus, then some REALLY obnoxious drunk was making an ass out of himself and annoying the crap out of people………..when the bus got to the bar for the after party I was pretty sure I heard several of the directors say they were gonna meet Gina at some fancy French restaurant it was about 11PM and I never saw any of those directors from Canada at the bar, they could have meant another Gina but I don't think so………..I think after seeing that obnoxious drunk guy Gina's manager decided it might be better not to go.
So bottom line it was AWESOME it was great meeting Gina and being there to support her and see her speak and get her award for Best Female Action Star.  You have an amazing personality and beautiful spirit with lots of charisma that people love as well, and if you can find the right scripts where that personality and spirit can shine through and put yourself out there doing interviews and getting fans engaged you will be Bigtime star!!!!!
Stay Cool Gina!!!!
MIKE
Credit: MIKE aka M1