Gina Carano at Superbowl 47 weekend – pics & videos, interview with ESPN & USA Today (*updated 02-05)
Gina Carano promoting Under Armour gear at Superbowl 47 weekend in New Orleans: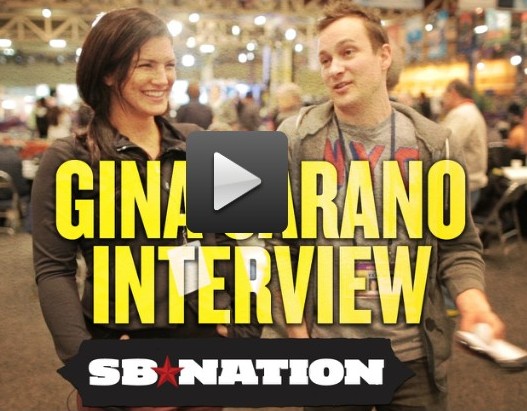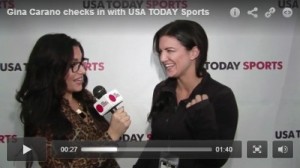 CLICK HERE for more candid pics.         
                    (credit: Paul877, swinjen, & Andrey) 
ESPN's Lynn Hoppes – "Fast & Furious 6" is getting a lot of buzz. What was it like on the set for you? 
Gina: "It was a great time watching all these people I grew up watching in movies my whole life. I got to see them in action and see all their different styles and personalities. It was interesting watching them either mesh together or not mesh together! It was really cool. Movies being made is a miracle."
– You've been working a lot lately, with a handful of movies under your belt. I hear you have another one in the can as a starring role also coming out this year? 
"That's 'In the Blood,' about me tracking down my kidnapped husband. That was a quick shoot for director John Stockwell. It was one of the most extreme things I've done in my life. I had to zipline. I had never ziplined before. And the first time I'm doing it I have someone hanging on me swinging and screaming. It was the coolest and hardest thing I've ever done."
– You've starred in a few projects, but what's the latest on the female version of "The "Expendables"?
"There are several in development now and it's all about getting the right people and who's going to be first to the production. You have to get the right cast. It's a competition right now."
Speaking of competition, do you ever think of getting back in the ring? 
"I am always training, because I love it. But I would have to train specifically with a fight in my mind. That hasn't entered my mind yet. I'm just preoccupied with my next project. I want to grow in this space. It's really challenging for me. It's attractive to me. Not like fighting isn't. But it's emotionally painful to act. You want to get better even after people smash you down. You want to be better than you were before." 
– Do you think you were ahead of your time? Now female mixed martial arts is really coming into its own with the arrival of superstar Ronda Rousey. 
"I love what's happening now. I love that Ronda came along and revamped the sport, and she brought it back. It broke my heart when it fell apart a few years ago. It was kind of hard when I was fighting, because people were saying, 'Who are you going to fight now? What are you going to do now?' I would love to be a part of it now. When I watch UFC, it's still my dream to fight. I'm so happy that it's happening for the women. I feel like I was a part of the beginning of it." 
– You've always tried to stay in shape, and now you're working with Under Armour on a project for women called "What's Beautiful." What does that mean for you to inspire women to get into shape? 
"We're all given gifts. You shouldn't be greedy. You should feel good about yourself and not be greedy of what other people have. It's a constant battle for everybody, but you need to be happy with yourself." 
– Are you happy now? 
"It's been a struggle, but I'm growing into a person I've always wanted to be. If you're bad to yourself, you're going to feel bad. You have to treat yourself better to start to feel better. I think it's people's mentality that slips when it comes to getting into shape. If you allow your mentality to be healthier, I think it'll help you out. Too many people get stressed out." 
– So it's time for you to take a break, right? 
"I'm just returning to Los Angeles to think about what's ahead. I finally got a break. I didn't think my mixed martial arts world would end the way it did [failing a prefight medical exam before her final match]. I was just taking opportunities in the off-times, and that took me in this direction. I'm grateful. I'm trying to better myself. I don't want to be a person with a short-term career who just went from sports to the movies on a whim. I want something different. As long as I can be artistic, I'll be good. I think the shock factor is good to keep people interested."