Haywire premiere in Los Angeles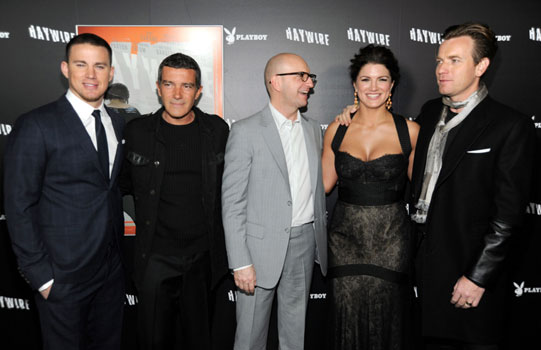 On January 6th in Los Angeles was the scene for the Haywire premiere.  Gina Carano, Ewan McGregor, Antonio Banderas and film director Steven Soderbergh attended the event.
About Haywire:
In the gripping new spy thriller from Academy Award®-winning director Steven Soderbergh (Traffic, Ocean's Eleven), a female covert ops specialist goes rogue when she discovers that the very people she has trusted with her life have double-crossed her, putting her and everything she values in jeopardy.
Mallory Kane (Gina Carano) is a highly trained operative working for a government security contractor in the dirtiest, most dangerous corners of the world. After successfully freeing a Chinese journalist held hostage in Barcelona, she discovers the man has been murdered—and all the evidence points to her as the main suspect. Suddenly the target of skilled assassins who know her every trick, Mallory realizes someone deep inside has betrayed her. But who? And why?
Far from home and on the run, Mallory executes a series of daring maneuvers to throw the local SWAT team off her trail, only to find herself pursued by far deadlier forces. Crossing multiple international borders, she eludes a powerful web of law enforcement and private operatives until she finds herself left with few options. Increasingly desperate to clear her name and reveal the real traitor, Mallory uses her black-ops military training to devise an ingenious—and dangerous—trap. But when things go haywire, Mallory realizes she'll be killed in the blink of an eye unless she finds a way to turn the tables on her ruthless adversary.
See Full Gallery of HD Pictures from the Haywire Premiere
Fox5News Coverage of the Haywire Premiere
Reuters Video of the Haywire Premiere
Facebook Video of the Haywire Premiere
Youtube Video of the Haywire Premiere
Youtube Video With Ben Ramsey Haywire Premiere After Party
Credit: Lara