Haywire Screening Latest Updates and Ticket Information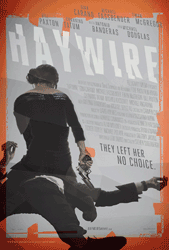 Here are some Haywire screening dates and updates from the movie Haywire. There is also a contest to win screening tickets by submitting a 10 word review of any Soderbergh movie.
Haywire is an electrifying tale of espionage and betrayal, a female freelance covert ops specialist (Carano), who works in the deadly world of international operatives, strikes back after discovering she's been double-crossed by someone close to her in the agency. Directed Steven Soderbergh.  Watch the Haywire Trailer.
Source:  Haywire Screening Contest, Haywire Screening Locations
Credit:  Lara, pOd