Opinion: Gina in the UFC – 2 trains of thought (with Poll)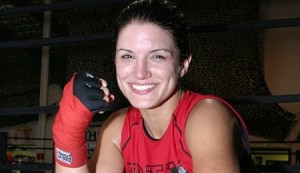 As decision time looms in her contract negotiations with Dana White, fans are left wondering when they will see Gina again. Will it be in the octagon or will it be on the silver-screen? Assuming she signs, who will she fight first? As she is coming upon the figurative fork-in-the-road that will ultimately shape her MMA legacy, everyone is watching to see what route she will take.
Much speculation has already been made about an immediate title match or superfight against Ronda Rousey. According to a majority of MMA media and fans alike, such a fight would be considered a squash match in favor of Rousey. With Rousey's reign of domination, it is not hard to see why, especially considering that Gina has not fought for almost 5 years and coming off a devastating lost against Cristiane Justino (Cyborg). A best case scenario for her is an upset-of-the-decade style win that would propel her back into MMA superstardom and cementing her legacy while likely earning ire of the entire womens division. Worst case scenario? a humiliating loss, the likes we haven't seen since Royce Gracie fought Matt Hughes on UFC 60 in his infamous comeback fight. There are a couple good arguments for the likely-hood of such a match though. The main one being how much money will be made for all parties involved. The other being that her past issues with weight cutting would her make her a prime candidate for a catch-weight superfight; one that would presumably be a one-off non-title affair.
But there is another option: A less popular and a novel idea that Gina could, just maybe, string together some wins in the UFC that would earn her a shot at the champion. Perhaps in the world of competitive sports, this would make the most sense. But of course this is the UFC we're dealing with here. An organization that is able to groom their fighters from the bottom up to reach their full potential (Jon Jones, Connor Mcgregor) OR where superfights can be made at a moments notice regardless of fighter rankings or weight divisions (think Chael Sonnen vs Jon Jones/Anderson Silva or James Irving vs Anderson Silva). The UFC caters to both sports aficionados and spectacle watchers alike, taking a page from boxing and another from the WWE.
Until the dotted line is signed, who is to say what will happen? However, if UFC history repeats itself, all bets point to the big money trail leading to the giant mountain of cash called Carano vs Rousey.