Dana White has warmed up to WMMA after seeing the Ronda Rousey vs Miesha Tate fight. Though still the state of womens MMA hangs in the balance of the current deal the UFC has with Showtime.
Here are the top 5 reasons why the UFC needs WMMA
1. Expand the MMA Audience
In order to keep the sport of MMA growing, the UFC will need to work towards expanding the fanbase. Woman are very much an undertapped audiance.
2. Boost PPV Numbers
There are only so many title holders in men's MMA so it makes sense add women fights to the mix.  It's likely to many viewers a women's title fight or any major fight would be either the #1 or #2 reason for them to tune into a PPV event.
3. Low Cost to Maintain
Right now there are only 2-3 major weight classes for WMMA vs 8 for the UFC. They are also not as deep so overall it wouldn't cost much to maintain those divisions.
4. Prevent Bellator from Taking the Woman's Division
The UFC has done many acquisitions in order to keep them as the #1 place for MMA fighters. Bellator has good reason to start snatching up the top talent in the woman's division if the UFC doesn't step up to the plate.
5. People Want to Watch Woman Fight
If you look at the numbers for 2012, there were 506,000 viewers for the Tate vs Rousey fight. This is far more than the 344,000 the Keith Jardine vs Rockhold got in 2012.  Women fighters have earned a great deal of respect from fans over the years and people want to watch them perform.
Talk is cheap so people are wondering when and if woman will headline a major PPV event.
Ever since Gina Carano got into the movie business, questions have revolved around will she return to fighting.
Some of these questions are answered on her current stance on fighting and her future role in movies.

Gina Carano has been training with her acting and physical coaches for the upcoming movie "The Fast and the Furious 6″. The movie will be shot mostly in London from around August to November.
Gina won't be at this year's Comic Con, though she is going to be on the Showtime 24/7 series in August that also features Ronda Rousey. She also recently did an interview on ESPN's In the Game.
Later this year, the movie "In the Blood" will begin shooting. With her busy schedule this rules out any possibility of Gina fighting in 2012.
Source: Gina's Manager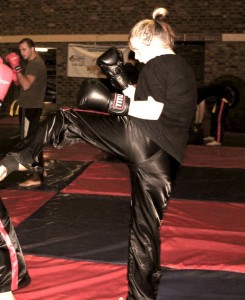 "My entire life has been
 one
 long
 battle."
My name is Chandra Vause. I am a 21 year old girl from South Africa. My entire life has been one long battle. I've had to fight for myself from an extremely young age as my father killed himself when I was 5 years old. My life hit a downward spiral. After living in many different homes and getting involved in drugs in my teen years, I have finally found myself and discovered that I am not my past or my circumstances. I have become a stronger person and I have Muay Thai and Gina Carano to thank for that. I have been practicing Muay Thai for 6 months now, during which time I have secured a future for myself by working hard as I was accepted into University to get my teaching degree in Language. I saw Gina Carano in  Fight Girls, and watching her gave me the strength I needed to pull myself out of the hole I was in. Gina's genuine spirit and fighter's heart is what pushed me to get my life on track again.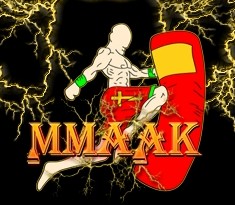 I had my first fight this past weekend (The SASCA Championships)  I fought a woman who has been practicing the sport for four years. I held out for three rounds going the distance, but was completely out of my league. Every time I hit that ring floor or had the wind knocked out of me, I kept thinking about what Gina would have done, so I stood up and took my beating. Proving my confidence was worth the worst hits of a black eye and bloody mouth. After I finish University, my dream is to become a professional Muay Thai fighter and meet Gina Carano. If I could say anything to Gina, it would be thank you. Thank you for inspiring me; you have no idea I exist but the impact you have made on my life is phenomenal. If I achieve none of my dreams, I know one wish came true, having a fighter's heart. I know that every time that bell rings for the next round, I will keep trying. In life, I can hold my head high.
Gina Carano shares her early thoughts on Fast 6, her co-stars and recounts Haywire to top UK based film site - 

Filmoria.com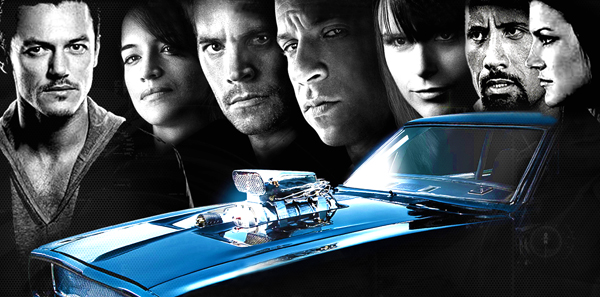 First of all, congratulations on your success in Haywire. How did you get involved in the role of Mallory Kane?                                      -Steven Soderbergh actually saw me fighting on CBS and then gave my management and agent a call. I'd just lost my first fight to Cyborg so I was just kinda depressed and he took the train up from LA and we had a four hour lunch. He asked if I wanted to do a movie and I was like, 'yeah sure' and then he went on to say he didn't have a script, producers or actors confirmed and explained him and writer Lem Dobbs would get working on it. It was incredible how fast it moved. The script ended up being good for me as Mallory is nothing like me and then he (Soderbergh) had me train with a secret service guy for seven months instead of an acting coach.
It must have been an overwhelming experience being touted by a top Hollywood director. How did you feel when you got the call and met up?
-I'm from the fighting world so I didn't really know who Steven Soderbergh was. I didn't really know anyone's names so I was very clueless on Hollywood. Since then, I have received the full education, believe me, and after it's all said and done, I look back and can't believe he did what he did and I couldn't be more grateful.   (continued…)
1
2
"It looks really positive and I'm so excited." (about potentially being a part of The Fast and Furious series) Gina doesn't know if the Rihanna (joining Fast 6 as a villain) "rumor is true…I would love to see me and Rihanna go at it," she said. "That would be hot." (*update 05/03 – Rihanna's rep confirmed to MTV news that "As far as I'm aware this is not true.")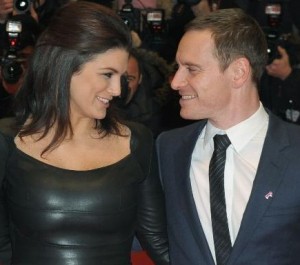 Carano says she still hasn't seen Fassbender's now legendary full frontal work in Shame. "I've never been asked about something as much as I have than about Michael's penis," she laughed. "I feel bad for him. What an awful thing to have to deal with." (E!Online – Marc Malkin) (credit: swinjen)  
"We're still in negotiations (on Fast 6) and everything's going smoothly, but it really looks like this is going to happen…I'm geeked out."

Gina Carano has moved to Los Angeles and joined the stunt choreography team from Haywire – 87Eleven, full-time. "We're doing all sorts of martial arts that I wasn't able to practice when I was doing MMA," said Carano. "I'm really broadening my horizon as far as my skills go. Some days I'm doing tae kwon do, some days it's judo, some days it's boxing or muay Thai or swordplay or gymnastics. I'm getting my fix in without meaning to."
"(The 87Eleven team is) every 12-year-old boy's dream because you're kicking and jumping and flipping around …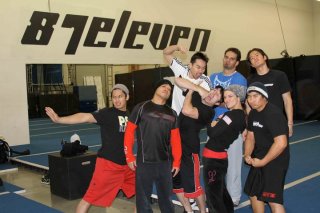 I fall in love with athletes and actors for their art and how they express it – not necessarily if they're winning all of their fights or if they're getting all the best roles in the movies," … "I think a part of what makes the kick-fighting [part of MMA] exciting and in watching guys like Jon Jones is the creativity. That spark has really ignited again in my life in being creative and using your body in creative ways."
After Fast 6, which shoots in London during the summer Olympics, Carano plans to film In The Blood, an action thriller set in the Caribbean. Carano said she hasn't been able to completely stifle her urges to return to MMA someday but understands she's broadening the appeal of female fighters in the mainstream with her new career. Responses like the one Invicta FC got are only the beginning, she said.
"There's no women like this in the world. I know the life and what these women go through everyday. They're an inspiration to me to keep going with what I'm doing right now," she said. "I'm just so much more fascinated with women's MMA than I'm with men's MMA right now and that says a lot. That's huge. I've been saying it for years that all they needed was a platform and now it's moving in that direction. I feel like part of amovement." (sportsillustrated.cnn.com - @lorettahuntmma)
(On Haywire) Sharing the screen with big names including Channing Tatum ("hilarious," according to Carano), Antonio Banderas, Ewan McGregor and Michael Fassbender could have been intimidating for a new actress, but Carano took it in stride. "It was such a fun experience," Carano adds. "I'm not like my character at all—she doesn't smile and I'm such a goofball. It was really healthy to explore the more serious side of me, but I was smiling off camera because I was having a blast!"          (If everything falls into place for  Fast and Furious 6) "I'll be that girl on set just happy to be there. At this point in my career, I have everything to gain and nothing to lose."  (fitnessmagazine.com – Karla Walsh)
ModernMan.com asked the lovely Gina to give us her picks for action role models we could never, ever live up to, but who we should try to emulate nonetheless.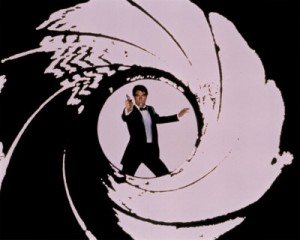 JAMES BOND
"Smart. Intelligent. Tricky. Hot." 
"
He's dark and mysterious, and therefore sexy. I grew up with Michael Keaton as Batman, but Christian Bale is pretty good, too
."

CHEV CHELIOS
"I really like the Crank movies. He just never gives up, and guys should emulate that. Never giving up, not even until the last second, under extreme pressure." (and what about his predilection for public sex) Yeah, that was really hot."
BRYAN MILLS


"I really liked Liam Neeson's character in Taken because he does whatever he has to for his family. He doesn't care what he messes up along the way. He gets the job done."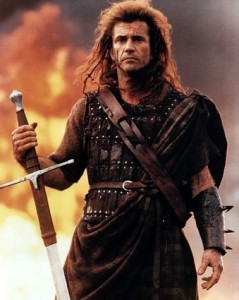 "Braveheart — this would be at the top of the list. He's passionate, and he has purpose. That's huge for any man — to have a purpose in his life, and to have something he's super passionate about."     (ModernMan.com – Eric Alt)
-Gina shows a reporter how to wrap hands (PaulaLamas)
-recalling Haywire, going from it to Fast 6, & more (MTV –  @KPSull)
-her action role and responsibility, & more (MTV – @KPSull)
-her background, the men of Haywire, & more ( StarPulse)
-musicals, karoake, feminine strength , & more (TheInsider)
"We got a call about two weeks ago to do 'The Fast and the Furious 6," Carano said. "We're in negotiations for that, so if that goes through, that will be a really cool opportunity for me to get my feet wet on another big-budget film and be around all these different types of actors." Carano seemed pleased at the idea of appealing to different bases of fans within the action genre, moving from the art-house appeal of "Haywire" to the mainstream explosions of "Fast & Furious."
"I'm going to go from the 'Haywire' crew to the 'Fast 6′ crew, so I'm going to get a very broad range of knowledge as far as people go," she said. "It's like two different high school groups. You've got the very artistic, and then you've got the action group of athletes, like hard-core. Very different personalities there." Carano is in negotiations to play a member of Dwayne Johnson's team in the upcoming sequel directed by "Fast Five" helmer Justin Lin. As for whether Carano has begun sizing up her soon-to-be castmates, she said that's not something she has to think about.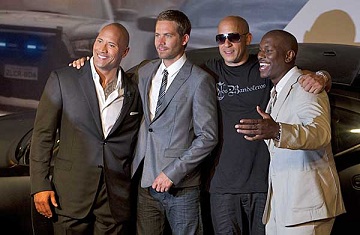 "No, I'm pretty secure. I don't need to size anybody up. I'm not worried about that. I'm worried about giving a good performance and understanding my character. That's what I'll focus on." The actress wouldn't say for sure how close she was to signing on, but remained optimistic about her prospects.
"It will be really good for me, and I'm completely open to it," Carano said. "If negotiations go good, we'll probably start filming that." (..continued)
(MTV.com – Kevin P. Sullivan @KPSull )
Pages:
1
2
Watch the legendary Chuck Norris honor Gina Carano in this testimonial video that preceded her award at ActionFest 2012, as well as Action Director of the Year, J.J. Perry. Also, checkout special video montages of rising action star, Cung Le, and action luminaries, Jack Gill and Mickey Gilbert, by clicking here.

(twitchfilm.com) – (credit: swinjen)
(twitchfilm.com) – (credit: swinjen)
;
;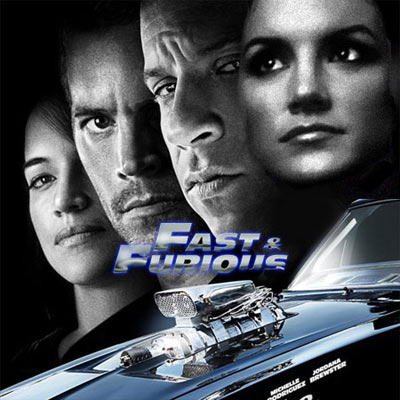 The action franchise Fast & Furious is in negations with Gina Carano to add her to the cast for the upcoming film Fast & Furious 6.
Paul Walker and Vin Diesel are also expected to star in the upcoming movie.  Neal H. Moritz and Diesel will be back as film producers. The director will be Justin Lin and Chris Morgan will be writing the script for the new movie.
Fast Five also known has Fast & Furious 5 set a record for the best opening weekend in Universal's history and grossed more than 600 million worldwide.
The first series of Fast & Furious made it debut back in 2001 and has grossed more than $1 billion.  Shooting for Fast & Furious is expected to get started in May/June and the movie In The Blood will be shot in late summer.
Source: Hollywoodreporter
Chick Norris Award winner Gina Carano, speaks about authenticity in action films & more:
- in a ReelzChannel

video (Reelz.com)
- in an interview with

The Action Flick Chick

 -

MTV (MTV.com, ActionFlickChick.com)

- with JJ Perry & Cung Le, giving ten ways to make better action films (Movies.com)
Then, Fight Director of the Year JJ Perry, expounds on his craft, as well as past & current projects. (ActionFest.com, 

Craveonline.com)
Let's begin with how you became an MMA fighter.
I was just kind of going to college because that was what everybody around me told me to do. I didn't have any passion and trying to find myself. I was dating a guy at the time who loved Bruce Lee. One night we were all hanging out drinking 40s, and he was like, "You know what? I'm gonna be done with this life. I'm gonna lose you if I don't improve my life." So he went the next day to Master Toddy's Muay Thai. I would go and watch him. Finally, the Thai master to me, "Oh baby, you need to lose weight. You fat." And I was like, "Oh God, like, okay." I signed up for lessons with him, and five months later I found myself in San Francisco in a little tiny gym, kind of like a "Fight Club"-type of scenario. And I was fighting. Ever since I did that, I was just kind of addicted to it.
Do you have go-to badass move?
I was in a fight in high school, and I overhand-righted this girl because she started attacking me at a basketball game. My first ever fight! I've had professional fighters come up to me and ask me about my overhand-right. It just came so naturally. (…continued)
(credit jr)
Pages:
1
2
← Older posts
Newer posts →