Would you rather…
break someone's arm or their heart?
be invincible or invisible for a day?
be involved in a high-speed chase or a gunfight?
skip summer or winter?
have more time or money?
break the law or enforce it?
be a thief or a beggar?
be bad at something you love or good at something you hate?
Gina Carano recently spoke in-depth to The Nerdist.com, CraveOnline.com, Collider.com, & more.
You got to be the lead in your first movie, Haywire. What was it like to share in the ensemble of a Fast and the Furious movie?
We sort of get Girlfight vs. Haywire in this movie when you fight Michelle Rodriguez.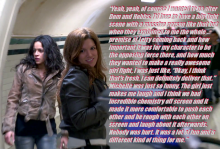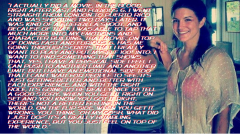 We really liked Haywire, but you got to be a couple shades lighter with your personality in this film. How do you feel you're growing as an actress?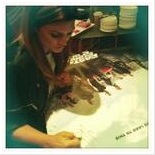 @RothCornet: "Moderated a very early Google hangout with Gina Carano, Gal Gadot & Elsa Pataky for #fastandfurious6. For the record: #GirlCrush on Gina."  …
(video courtesy: shifted2u)
(credit: EoinA, Paul, Hey-Why-Her?)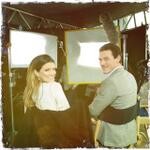 "I think it'll be a very cool fight scene between two women," says Carano, who plays Hobbs's right-hand woman. Rodriguez is no mean screen fighter but going head-to-head with a real warrior means Carano has to pull some of her punches. "But every once in a while you have to give it a little something – and it helps out with the acting too," Carano laughs. "Gina's deadly," growls Diesel barely concealing his delight.
(IGN)
credit: Swinjen & Hey-Why-Her       source: YahooMovies!, IGN.com, Machinima.com
When did your transition from fighting to acting start?
I always knew in my heart that if an opportunity was going to come, it was going to come, which it did through Steven Soderbergh. Ever since then, I've been like, just trust your heart a little bit more [laughs]… because those things do happen. He approached me after my last fight, which I had lost against Cyborg and I got a phone call that week, four days after the fight. My agent, you know how agents are, was like "you really need to take this meeting, he's a director." I was like I don't want to see anyone. I still have a black eye, this is awful. We had lunch for four hours and asked if I wanted to do a movie and I was like, YES.
Can you tell us about your character in the film?
Yeah, her name's Riley, which I think is a cool name. It's only the second character in a movie I've ever had. She's kind of a backup to The Rock. She's on his team and is very loyal to him. She has some really cool twists and turns throughout the movie that I think the audience is going to be surprised by.
Does she have a love interest?
Ummm [laughs]… Let's see. In her mind, always. You'll have to wait and see.
How has the training you've received in MMA translate to acting? Not just in the physical part of acting, but acting itself?
It helps me so much because physical acting is often times just as important as verbal acting. I think what I bring to the table is just a natural sense of physicality, which I don't really have to think about too much. Training to fight is a passion so when you have a passion, you get humbled. You get humbled when you go to the gym and you get humbled every day you go to the set. It's interesting because it's two kinds of parallel worlds.
Do you feel more or less pressure coming into a 6th film of a franchise?
This is important to me. This is the second movie I've landed so of course I take it really seriously. I mean, acting is really vulnerable. Like today, for instance, I was doing this look over my shoulder and all I kept thinking was Zoolander blue steel. I was like get that out of my head, why am I thinking that! Stop that!
Do you like the physical roles or would you want to move onto something that's a little more dramatic and less about your background?
I'd love to actually because I'm kind of two different people. The physical part of me is very much different than me sitting here. You know, I'm shy, I'm nervous energy'd and I know that all about myself. I'd like to explore that side of me more because it's natural and I think it'd be refreshing to see in me. But, I know I have to put in my time.
Are you doing any of your own stunts?
No no no. I do all the fight scenes and everything I can physically that way, but you can't take anything away from stuntwomen and stuntmen. They do things that production won't let me do. I know a lot of actors say that, but when you see these stunts, I'm just like I don't know if I'd do that anyway because it looks like you just broke your neck [laughs]. I saw one today where a girl got hit by a car and she rolled over it. I don't think I could do that.
source: BroBible.com                                      credit: EoinA & Paul877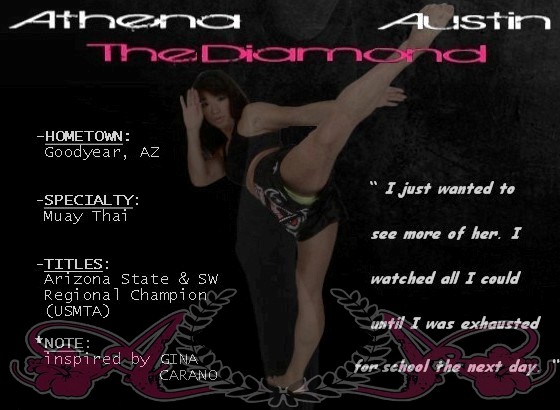 Growing up, I wasn't an athlete. I always considered myself an average girl. It wasn't until high-school that I found out that I loved entertaining people through dance and theatre classes. 

It was the summer after I turned 17 and graduated. I auditioned for The Phoenix Suns Dance Squad. I remember practicing so hard to make it on the team. All of the girls were so beautiful; I started to lose confidence. Even though I had the skill, I didn't shine in the audition. At that point in my life, I started to hate myself. I hated the way I looked and how short I was. Everything put me through a depression.
A month later everything changed. Watching one of Gina Carano's fights for the first time left me speechless. It was the StrikeForce Women's Featherweight Title fight against Cris Cyborg. Even though she lost, she just seemed so superhuman to me. I was at loss for words. I just wanted to see more of her. I watched all I could until I was exhausted for school the next day. Every video I watched made me say, " Gosh, I want to be like her." She inspired me so much that I questioned myself thinking, "Why not… why not give it a shot?" Don't get me wrong, I was terrified of fighting. I had never gotten into a fight or even hit anyone, and the next thing I know, I'm stepping foot into a Muay Thai Gym. 

Just the sound of "Muay Thai" was intimidating. I didn't know what to expect. The coach was a little man from Thailand. He gave me my first pair of pink boxing gloves and red Muay Thai shorts. After changing clothes, I remember looking in the mirror and thinking, "I can't believe I'm here right now!" I then tried to pump myself up, thinking "Okay, be like Gina, be like Gina." Walking out of the bathroom, the coach said, "Oh good, you look like a fighter now." By the end of the class, I fell in love with it; I was so excited. 
It lit a whole new fire inside me. The girl who had once hated herself now had confidence. 

I wanted to learn everything, every: punch, kick, knee and elbow. I would then watch Gina's training footage and try to mimic her combos by shadow boxing in the hallway of my house and in front of my dresser mirror. I felt the urge to kick everything when I was at work and school, just because I finally knew how to. I became so obsessed with the sport and the culture, that it turned into a way of life for me. By Gina inspiring me to get out of my little box and try something new, my whole world changed in such a small amount of time.

After only 8 months of training, I dropped out of college to prepare for my first smoker fight at Master Toddy's gym in Las Vegas. I lost the fight by split decision. Even though smokers don't count on any record, losing made me learn and grow into the fighter I am today. After that, I trained so hard and pushed my body and mind, surpassing my limits.  I quit school, my two jobs bagging groceries, and working at a sports bar. I sacrificed relationships, giving up going out with friends because of my dream.








I've been doing Muay Thai for two years, & have 2 title belts in the 105lb. Atom-Weight Division for the State of Arizona, & the 105lb South-West Regional Title from The United States Muay Thai Association. I came a long way in a short amount of time, and it all started because of being inspired by Gina.


There is nothing more rewarding than accomplishing a seemingly impossible goal. My journey of becoming a Muay Thai Fighter is just getting started. I am still a student with alot to learn. One of my goals is to go to Thailand, and experience what it is like to live, train and fight out an authentic Muay Thai camp, and learn more about the culture. In the next 5 years, I hope to become a world champion, inspiriting others like Gina Carano did, and they can in-turn share their "Gina Carano/Athena Austin story". Even though she may not be fighting now, she is still someone I will look up to and thank throughout my journey. I think it is amazing that she is in the movies now because it shows just how many doors can open through hard work and dedication.

Through this journey,  I have met wonderful people who've shared my dream. So, I'd like to give special thanks to all the training partners and coaches I've ever worked with, my amazing parents, my boyfriend who shares the same love for Muay Thai as I do, and my friends who support me 100% and never want to miss a fight. you all have helped me become the fighter I am today.    - Athena Austin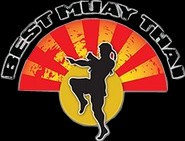 ← Older posts
Newer posts →