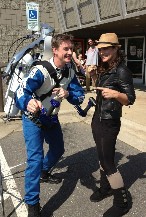 FilmSchoolRejects.com spoke with Gina Carano, the recipient and inspiration for The Chick Norris Best Female Action Star Award, at ActionFest 2012.
Thank you so much for taking the time to talk with us.
Not a problem. Film School Rejects, that's an incredible name.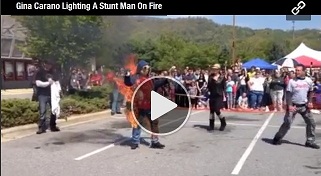 Thank you very much, we do the best we can. That's kind of how we operate, we appreciate films as if we went to film school and yet all managed to get kicked out before graduation.

I like that.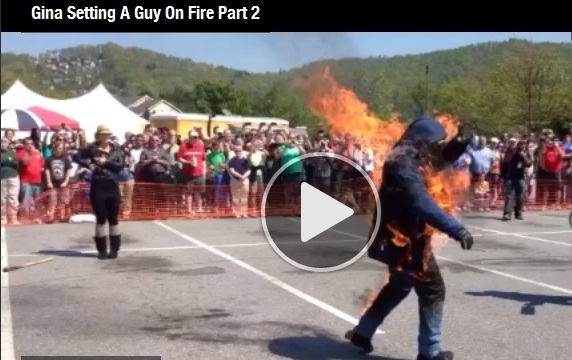 I wanted to talk to you a little bit about making the transition from MMA to film. Specifically, did you find it difficult to work within scripted fight sequences after coming from something as visceral and in the moment as mixed martial arts?
Actually I found it, in a way, enlightening and freeing. It allowed me to do what I love to do without worrying about having to have a fight at the end of those two months of training. Instead it was more like choreography for a dance, but still letting me do what I love, and that was a ton of fun for me. It was a way for me to explore my passion without getting hurt or having to hurt someone else. It was beautiful actually. When you're fighting in gyms, you have to spar all the time. Sometimes you're better than your sparring partner, sometimes you're worse, but you have to use a certain amount of control. I took that same mentality, "I'm not trying to hurt this person, I'm trying to work with this person." It was an easy transition actually.   (continued …)
(credit: swinjen, M1, & EoinA)
Pages:
1
2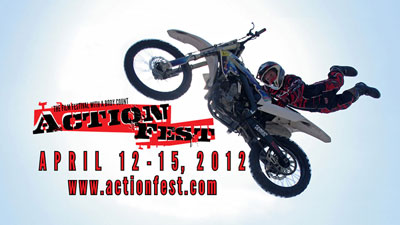 The stunt show started at about 2PM, at about 2:20PM I noticed Gina her mom were there and lots of people noticed and got excited saying that's Gina Carano with the hat and leather jacket…………( for the record I was hoping she would be in her trademark leather jacket

…………Cung Le joined Gina and her mom in the roped off area with all the stunt men, actors, event people etc.
The stunt show was still going strong at 3PM but Gina walked inside with the director her manager and some event people, I figured the stunt show was just running a little late and they would wait for Gina's introduction and the movie but after 5 minutes i went and and just missed Gina's intro to the movie True Romance and was very disappointed

….she looked really shy and embarrassed you could tell she hated public speaking (which I can totally relate to

……she had her usual cute smile and high tailed it out of there with her mom, I was sitting at the end of the second row because I wanted to be up front for the panel on fighting in film that Gina, Cung Le and JJ Perry were doing and Gina walked right next to me and looked very nervous and embarrassed so I gave her a big smile and said I missed your introduction ( I don't think she heard what I said though because she was nervous, but she smiled back as she met her mom and walked out.
Next came the fight panel with Gina, Cung Le and JJ Perry…….Gina was very cute but nervous, she hated talking about her self or criticizing other people or things…..but was very comfortable with Cung Le and JJ and talking about things she was passionate about……she talked about her new movie a little said she is training now and filming starts in June, they really got along well, they were passing questions off to each other and high fiving each other and fist bumping. JJ Perry did a little more talking than Gina or Cung Le but they all were very cool and interesting and had good things to say. they showed scenes of Gina and JJ doing all the fight scenes from Haywire. Cung and JJ went without a microphone, Gina tried to do the same but several people from the crowd yelled they couldn't hear her so they gave her a microphone then one guy in the back yelled he still couldn't hear and Gina looked a little embarrassed so they turned her MIC WAY up (for the record I could hear her fine but it was a big room), later Gina was tapping her Mic and it gave crazy loud feedback but probably only the people in the front few rows knew it was her:)…….she was embarrassed but tried to play it off like it wasn't her

After the fight panel was over there was big applause for everyone but Gina ALWAYS got the most applause and most excitement whenever she was there, they were doing pics and autographs afterwards and she was taking the typical pics with her arm around the person, when It was my turn I asked her a few questions about her new movie "In The Blood", she said filming will start in June, she said she didn't know when it would come out, she said Haywire was supposed to be released in 2010 and they did several reshoots and then held up the release, she also said she didn't know if it would have a wide theatrical release or be straight to DVD, I think she said the director would know more after it was shot. There were a bunch of people waiting for pictures after me so I asked her to put me in the rear naked choke for the pic and Gina and the fans really liked that, in fact most of the others waiting asked Gina to be put in the rear naked choke or a head lock, one guy that wanted to be put in a headlock was like 7 feet tall and Gina asked him to bend over or get on his knees, a bald headed girl asked Gina to sign her head and Gina really got a kick out of that I have a pic of Gina and the bald headed girl and Gina putting me in the rear naked choke that I will try to get posted when I get home…………After all the photos as G was leaving to go back to the hotel around 6PM with her mom to change her clothes and do her hair I told her I am having a Haywire Party at my house in 3 weeks and asked to get a few pictures with her doing a birthday shot and drinking a beer to use for the FB event invite….she said she would have been totally down if I had the shots and beer with me now but that she had to get back to the hotel ASAP………..her and her manager both said that after the awards or at the after party would be a good time to get those pics.
The awards party was really cool Gina looked amazing in that dress with her long hair, she was sitting at a table with Cung Le and JJ Perry in the front right corner of the room , they gave the awards to the stunt men and directors first and they showed a clip of the award recipients stunts, fights, acting scenes etc… before calling that person up for the awards and to speak. Ginas kissed JJ and and fist bumped and patted Cung Le on the back and they did similar with Gina, Cung Le was snapping photos of Gina and taking video with his phone……..Gina got called for her award last and received a huge pop she always got the most applause……….the funny thing was Gina walked up to the microphone to speak as her video highlights were starting and got embarrassed but then walked behind Cung Le and stood up the whole time the highlights were playing to make it look like she intended to stand up, she also got embarrassed when her Blood & Bone scene came up during the highlights and covered her eyes and started giggling it was really cute

………Gina then started speaking and thanked her mom for coming with her and ALWAYS supporting her throughout her entire life she teared up and got a little emotional saying how much her family and close friends mean to her, she then wanted people to recognize the stuntmen and women and said hopefully there will be more opportunities for stunt people and people like Cung, JJ and herself but she never really said anything about herself.
After the awards Gina hung out in the tent for like 45 minutes with all the movie directors and event people then went upstairs with some of the event directors and her manager, she wasn't in the VIP Lounge because I checked periodically because I was REALLY hoping to get those pictures I wanted and to get a chance to really talk with her, I heard her manager say earlier they were going to the after party downtown but I wasn't completely sure they were going, plus I never saw her comeback downstairs so I had to decide if I was going to take the party bus downtown with a bunch of directors and event people or stay in the VIP lounge and hope Gina came out of some backstage room, then was pretty sure I heard her manager talking on the phone debating if Gina and him should ride the bus to the after party, he then said they would wait for Cung Le I think and ride the next bus, then some REALLY obnoxious drunk was making an ass out of himself and annoying the crap out of people………..when the bus got to the bar for the after party I was pretty sure I heard several of the directors say they were gonna meet Gina at some fancy French restaurant it was about 11PM and I never saw any of those directors from Canada at the bar, they could have meant another Gina but I don't think so………..I think after seeing that obnoxious drunk guy Gina's manager decided it might be better not to go.
So bottom line it was AWESOME it was great meeting Gina and being there to support her and see her speak and get her award for Best Female Action Star.  You have an amazing personality and beautiful spirit with lots of charisma that people love as well, and if you can find the right scripts where that personality and spirit can shine through and put yourself out there doing interviews and getting fans engaged you will be Bigtime star!!!!!
Stay Cool Gina!!!!
MIKE
Credit: MIKE aka M1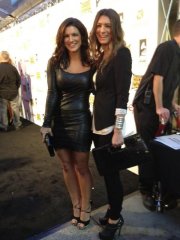 CraveOnline & Movies.com spoke with Gina Carano on: Haywire, her status, new movie 'In The Blood' and more.
Congratulations on your ActionFest award.
Thank you, thank you. It's really cool that they finally have an award like that that they're giving out and I'm really looking forward to seeing the women after me get it.
What highlights from your fights do you hope they show in the clip reel?
You know what, I've never actually been to one of these award things, so they're going to show a clip real? I'm fine with whatever. They can show anything. I'm really proud to have come from MMA and to be a part of that. I think it's an amazing sport and they're such wonderful people and such wonderful females that are part of it too, so it's really kind of an honor to represent my sport in that way. It's really kind of awesome also for me to represent stunts because I think those people put out such wonderful, beautiful fight scenes that we get to enjoy all the time and they actually put their lives on the line a lot of the time too and it's really nice to be a part of an event that really shows people that side to it and honors people that are part of the stunts and all that.
Have you gotten new fans from movies?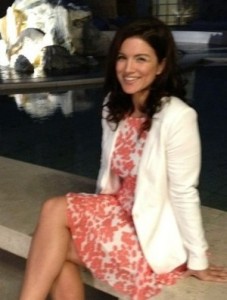 Yeah, I think so. I've been actually surprised. A lot of people enjoyed the film Haywire and a lot of people have mixed feelings on it but regardless, a lot of people have said really wonderful things about it being my first experience, that the fighting they absolutely enjoyed. So I think I've gotten a lot more fans actually. I'm so surprised. I'm really surprised how many people knew me as Gina Carano. MMA has a beautiful fan base.    (continued)
(credit: EoinA)
Pages:
1
2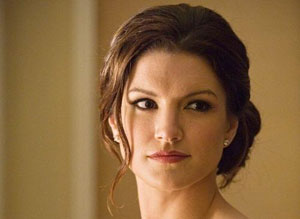 Not too long ago, we asked the fans to come up with some questions they would like to ask Gina Carano. In less than 24 hours, we got a lot of great questions.
Here is the exclusive list of the questions and the responses from the #1 female MMA action moviestar, Gina Carano!
Haywire Questions
Name: Kevin
Location: Regina, Saskatchewan, Canada
Questions:
1. What's it like to be the leading role for the film haywire?
It was one of the most blessed experiences of my life.
---
Name: Mel
Location: Rockville, CT
Questions:
1. How did you train and prepare for this movie and was it different than any of your normal training?
3 hours of stunts a day, 3 hours of bootcamp, and then 2 hours of strength and conditioning
2. What martial art is used in the film?
The ass kicking kind.
---
Name: Daniel
Location: Dallas, TX
Questions:
1. What was your favorite part when filming Haywire?
Waking up everyday and absolutely loving what I was doing. Everyday was a new surprise.
---
Name: Binh Lam
Location: Orange County, CA
Questions:
1. There have been many comparisons between Haywire and the Bourne Trilogy. Who would win in a fight between Mallory and Jason Bourne and by what method?
Jason would probably rather recruit her.
---
Name: JChap2
Location: Charlotte, NC
Questions:
1. Gina, your grandparents were adorable at the premiere! Other than obviously being extremely proud, what did they think of Haywire? Was it a little intense for them?
Sitting next to my Papa and Grandmama on the way to the premier put tears in my eyes, there's no words to describe sharing a moment like that with them..
2. Gina, is there a specific actor you'd REALLY like to work with in the future? (other than Johnny Depp! HAha!)
Nope, just Johnny.. if we could just make that happen already I could get back to fighting.. haaa Just kidding, no there is a lot of people Id love to work with absolutely.
---
Name: DeborahWhoHasYourPower
Location: Virginia
Questions:
Hi Gina, First I want to say Congratulations on Haywire! How exciting for you, looks like you are kicking some serious butt!! You rock in the trailer, can't wait to see it!
1. How do you like being an Actress compared to the other things you do? I love it. I have so much to learn but thats what I like about it.
It's a lot of work and a lot of fun and I have a lot to learn also, it's pretty new to me so it's easy to be passionate about it.
Lots of love & hugs!
Deborah
---
Name: Ribbentjärn
Location: Sweden
Questions: Hi Gina! i am a theater/actor student(but i am also a MMA and American sport fan

) from sweden and i know you probably get this a lot but i just have to say it,I am a big fan of you and i consider you as one of the most beautiful women in the world! but now on to my question,
1. I think u are a great actress, was it easy for you to play against all these big names i Haywire or was it difficult??
It was beautiful. I never felt so comfortable with a group of guys.
Take care!
//Ribbentjärn
---
Name: Chuzzy
Location: Nottingham. England
Questions:
1. Will you ever visit England?
Absolutely.
2. Will you be making any more action films?
Yes
---
Name: Swinjen
Location: Winona, MS
Questions:
1. With haywire being an action adventure movie, if u were to continue in movies what other genre would u like to tackle?
A dark romance.
2. What do u think of the score that david holmes provided for the movie and the artwork that niel kellerhouse did for the marketing?
I thought they were perfect for the film. They both represented the movie how it is.. authentic.
3. And this is coming from the comic book fan in me. if u were ever really approached for the role of wonder woman would u wear the traditional costume or the redesign that has pants?
I think if Wonder Woman came to this planet she would be a little out of place, still very dominant and inspiring but it could be more played like a Hancock meets Encino Man, with a female lead. Haa I don't know if that makes sense to anyone else but that's the way Id want to see her. Id like to see the vulnerability in her as well as her strengths in a realistic way is what I mean. (redesign outfit for sure)
4. Have u seen any good movies lately?
I laughed so hard in Wanderlust and Im looking forward to Hunger Games..
---
Name: Lindsay
Location: Cherry Hill, NJ
Questions:
1. What is your all time favorite movie to watch? I am a huge fan of yours and I wanted to know who you are a fan of?
TRUE ROMANCE! and I'm a fan of all different type of humans.
---
MMA and Fitness Questions
Name:  Stones1005
Location:     Pittsburgh, PA
Questions:
1. What motivated you to fight? Were you picked on as a child? In grade school I was, and as I got older I just didn't want to take anybody's crap– so I didn't!! lol Take care, Joe
It just ended up being something I responded to. Funny the things that make us want to get up and live.
---
Name:  Bleader
Location:     Kuwait
Questions:
1.  How many day you train in a week ? and how many hour a day?
That varies.. training for movies, training to be healthy and training for fights are all very different.
---
Name:  Skylar
Location:     California
Questions:
1.  What's your favorite work out?
Today… I think Id like to dance.
2.  What is the best way to get into the professional fight circuit?
Get in the amateur fight circuit and when your ready, listen to your coaches and.. your ready.
---
Name:  Jobe
Location:     Atlantic Beach, FL
Questions:
What advice would you give a woman wanting to get into the sport of MMA?
Do it because you want to, not for any other reasons. You'll get hurt if your hearts not in the right place.
---
Name:  McKennakid
Location:     Barrington, RI
Questions:
1.  Hey Gina, you're amazing! I was wondering how old you were when you began training and what made you decide to head in the direction you did. I'm 24 and wondering if you think it's too late for me to learn to fight, thanks so much and keep on wrecking it in the ring!!
Start training and see if you like it, then go from there.
---
Name:  B
Location:     Chicago, IL
Questions: Q:
1.  Gina, I've met awesome people just from being a fan of yours. In particular, 3 girls who've been inspired to Muay Thai because of you. Without any info on how they are & have newly taken to fighting, please give each of them 1 piece of advice, or anything that comes to mind.
Train Hard.
Have fun.
Leave everything you are at that moment in the ring or cage.
---
Name:  Jordan57FRA
Location:     France
Questions:
1.  I'm French. Did you already go in France?
I have visited and Ill def be back.
2.  MMA is illegal in France. What could you say to our minister of sports to legalize MMA?
MMA brings people together and teaches them respect, not just for themselves and their gyms but for other martial arts, other cultures, and people in general.
You are anyway my idol. Thank you Gina.
I wish you all the best!
Jordan57FRA
---
Name:  Guillaume
Location:     Chicoutimi, Québec, Canada
Questions:
1.  Hello Gina.  With your role in haywire, you are now a great actress. Personally, I'm a big fan of you since your early career in WMMA. Gina, you expressed your doubts about a possible return in the cage of WMMA. Whatever is your final decision, I will support you fully. But I want to know,  if you decide to devote your career in acting, Are you planning a last farewell fight for your loyal fan .
Anyway, thank you for everything you did Gina !
We will see.. and thank you very much.
---
Name:  Redneck oz
Location:     Melbourne, Australia
Questions:
1. What female fighters impress you the most these days?
Kerry Vera, Ronda Rousey, Holly Holmes, Marloes Coenen.
---
Name:  Jeff
Location:     Montreal, Canada
Questions:
1. What was your most enjoyable fight
Julie Kedzie… she's my friend now and has such a great energy about her, no wonder why that fight was so fun.
---
Personal Questions
Name:  Michael
Location:     Lima, OH
Questions:
1.  If you were a superhero, what power would you have?
Wisdom…
---
Name:  Shelly
Location:     Trinidad and Tobago
Questions:
1.  What do you use as inspiration when you're feeling discouraged or uncertain about your yourself?
Music and the knowledge that this too shall pass. It's not all bad to be discouraged actually, (as bad as it feels at that moment) its your subconscious pushing you to try harder in a way and telling you what it doesn't want and then you have to tell your subconscious to shut up cause your working on it! haa. One day at a time.
---
Name:  Denjayb (Dennis)
Location:     New York, NY
Questions:
1.  What is your favorite Italian dish?
Today… My family's mushroom raviolis but I'm eating healthy so thank goodness I'm not in Reno.
---
Name:  Jr
Location:     Florida
Questions:
1.  In an interview you mentioned that you thought at one point you'd be playing drums. Do you play or have you played? Is it something that still interests you?
How important is music to you?
Where would we be without music… It gets me through a day. I used to have a drum set, now I have a guitar hero.
---
Name:  Damir
Location:     Zaragoza, Spain
Questions:
1.  I was born exactly the same day and year as Gina, I would like to know if she is the typical Aries.
I don't like the word typical, is that something an Aries would say.
---
Name:  Leigha Warner
Location:     Olymia WA
Questions:
1.  I would like to know what *we* your dare I say "old school" fans can do to support/help you and this next phase of your career? (congrats by the way it was yours for the taking and you rock for showing up for it I appreciate the inspiration)
You all are doing more than you know. I am aware I have some of the most beautiful hearted, genuine people who follow my career and I hope your lives are full of rich passion and wonderful love in whatever you do.
---
Click here for Video. Donate to the cause by clicking the logo below.

credit: LARA & Getty Images
The superfight Miesha Tate vs Ronda Rousey will take this place this Saturday March 3 in Columbus Ohio. This will be the first time a woman's MMA fight headlined an major event.  Gina Carano gives her opinion in a radio interview with MMA weekly.
Ronda Rousey is currently a 4 to 1 favorite however all of her wins have come within in the first 60 seconds of round one via armbar.

Any predictions on who will win and by what time/round?
Credit: jr
Source: Bleacher Report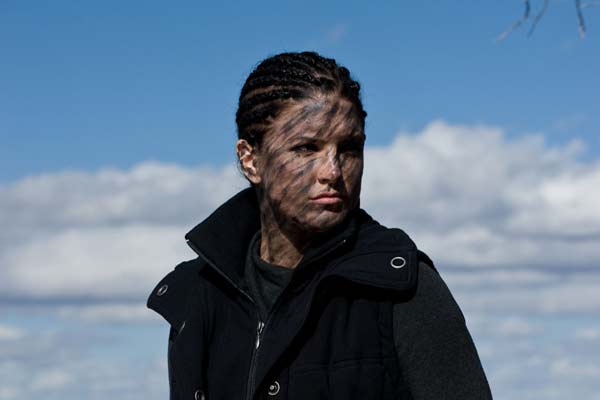 Gina Carano will star in the upcoming movie In The Blood directed by John Stockwell whose prior movies include Into the Blue and Blue Crush.
Described as being in the vein of Taken, Blood is set in motion when a husband disappears while vacationing in the Caribbean with his wife, to be played by Carano. The grieving wife passionately and recklessly pursues the men whom she believes kidnapped and killed him.
Stockwell said
This role will showcase not only Gina's fighting skills, but also her acting abilities as her character struggles to reign in her violent past.
Principal photography is scheduled to begin in late spring or early summer in Puerto Rico with production partners Pimienta Film Company (The Men Who Stare At Goats).  The film will also likely use Haywire's stunt team "87eleven" for the new movie.
Source:  Hollywood Reporter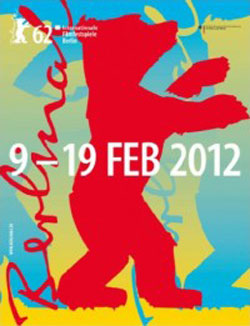 Several major Hollywood stars such as Angelina Jolie, Meryl Streep and our own Gina Carano will be making the trip this year to Berlin for the Berlin International Film Festival.
Haywire will be featured at the festival with special midnight screening at the Berlinale Palast.  Haywire's release date for Germany is set for March 8th.
Gina Carano is expected to make several stops in Europe for the month of February which includes Poland on 25th-27th.
The Film I am Bruce Lee will be in Theaters on Feb 9th and 15th only. I am Bruce Lee tells the amazing story of one of the most iconic human beings ever to enter the public consciousness. Gina Carano is featured at the 1.05 min mark of the trailer.
Source: I am Bruce Lee Movie
Credit: JChap
Gina Carano on Carson Daly show.
Credit: p0d
← Older posts
Newer posts →