Gina Carano Biography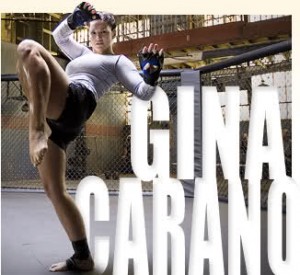 Name Gina Carano
Nick Name Conviction
Record 7 – 1 -0 (Win – Loss – Draw)
Wins 3 (T)KOs ( 42.86 %)
1 Submissions ( 14.29 %)
3 Decisions ( 42.86 %)
Association Team Jackson
Weight 145lbs (66kg)
Style Kickboxing
City Las Vegas
Overview
Gina Carano is an American mixed martial arts (MMA) fighter and up and coming actress.  While currently in hiatus from fighting, Carano is considered one of, if not the, best female fighters in MMA history, once called the "Face of Women's MMA."
She began in the sport of Muay Thai, where her record of 12–1–1 led to MMA and a 7-1 record there.  Her lone loss was to a fighter eventually suspended for using steroids in a later fight.
In addition to Carano's cage skills, her infectious personality, stunning beauty, and humility earned her a large and dedicated fan base.  It also attracted the attention of renowned film director Steven Soderbergh, who was so impressed with Carano, he offered her the leading role in a movie he would create specifically for her: Haywire.
Gina took to role, receiving strong reviews for her performance, holding her own among a strong cast of veteran actors.  Haywire landed the self described shy Carano on the red carpet, in front of lights and cameras, solidifying her acting career.
Indeed she has already agreed to two more films – Fast and Furious 6 and In the Blood – and has received several more offers.  As Carano explores her new art, she is yet unsure when and if she will step back into the cage.
Natural athlete
Born on April 16, 1982 in Dallas, Texas, Carano is a natural athlete, and daughter of former Dallas Cowboys quarterback Glenn Carano and his wife Dana, whose brother, Pat Cason, was a star football player at UNLV.
She led her high school basketball team to a state title, a team coached by her grandfather Jack Cason.  She also played softball and volleyball and was offered scholarships for basketball and volleyball.
Carano boasts her grandfather's focus on aggressive play not only led to the title, but also made her the league leader in personal fouls.
Acting Career

Fight Girls – movie
Fight Girls – TV series
American Gladiators – TV series
Blood and Bone – movie
Haywire – movie
Fast and Furious  – movie  (in production)
In the Blood – movie  (in production)
Command & Conquer: Red Alert 3 (video game)
Awards and Accolades
In April 2012 Carano received the first ever "Chick Norris" Award for best female action star, awarded by ActionFest to the top female action star of the year.
Carano was named "Hottest Woman In America" by Big Biz Magazine in Spring 2008.
On May 13, 2008, Carano was the most-searched person on Google and was the third-most searched person on Yahoo!
Carano was ranked #16 in Maxim's Hot 100 list in 2009.
She was one of the few athletes to make the cover of ESPN The Magazine's Body Issue in 2009.
Gina is truly an inspiration to fans around the world.
7-0-0 (wins-losses-draws)




Loss

7-1

Cris Santos

TKO

Strikeforce – HP Pavilion

08/15/2009

1

4:29

Win

7-0

Kelly Kobold

Decision (Unanimous)

10/4/2008

3

3:00

Win

6-0

Kaitlin Young

TKO (Doctor stoppage)

5/31/2008

2

3:00

Win

5-0

Tonya Evinger

Submission (Rear naked choke)

9/15/2007

1

2:53

Win

4-0

Julie Kedzie

Decision (Unanimous)

02/10/2007

3

3:00

Win

3-0

Elaina Maxwell

Decision (Unanimous)

Strike Force-Triple Threat

12/8/2006

3

2:00

Win

2-0

Rosi Sexton

TKO

WPFC 1-World Pro Fighting Championships

09/15/2006

2

4:55

Win

1-0

Leiticia Pestova

KO

WEF-Orleans Arena

06/10/2006

1

0:39