Gina Carano In GQ Magazine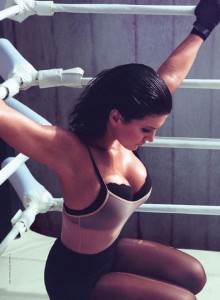 One hot Gina Carano GQ picture which some are calling the best one of all-time.

"On the surface, it's like countless other action films starring women: Steven Soderbergh's
Haywire focuses on a beautiful, toughas-nails secret agent who beats the living crap out of the men who get in her way (including Channing Tatum and Michael Fassbender). The difference is that this time the star—Gina Carano, a.k.a. the Face of Women's MMA—could, in fact, kill you with her foot."
Gina Carano will also be in the January edition of Elle Magazine.
Source: Magazine Article, Behind the Scenes Video
Credit:  Special thanks to GQ Magazine for sending us the Gina Carano GQ HD Photo